Ask The Inspector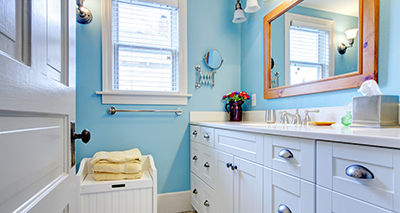 Add Value to Your Home with These Improvements
You probably have a long list of remodeling projects you want to get around to, and sometimes it's hard to know where to start. We've compiled the four best home upgrades that will put the most money in your pocket when it comes time to sell. Learn more
How to Survive Winter: 7 Genius Snow Hacks
Snow is stressful, but just because it's the dead of winter doesn't mean you should be left out in the cold. We're here to make it easier with these seven brilliant snow hacks you can add to your winter routine right now. Learn more
Expert Advice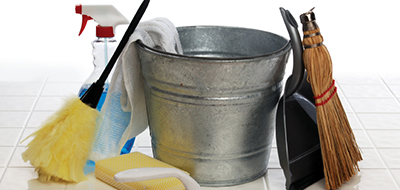 How to Remove Salt Stains the Easy Way
If pesky salt stains are getting in the way of keeping your floors sparkling, you'll want in on this secret: vinegar. Find out how this inexpensive household staple can help you get rid of winter salt stains in a flash. Learn more
How to Remove Static from Your Home
It's that time of year again. . .you can't walk across a room without feeling an irritating little zap.  Read on to learn about a few easy solutions for removing static from your home and your person. Learn more
DIY Countertop Repair for Scratches and Scuffs
If you cook a lot, chances are your countertops have seen better days. Every scratch and chip tells a story, from that pan you dropped to the knife that slipped. The good news is that there are some simple countertop repairs you can do yourself to make your counters look like new and save some money in the process. Learn more
Snapshots From The Field
Most of us have dreamt of having our very own indoor pool at one point or another. Many determined homeowners are willing to DIY their way there, no matter what it takes. So what's wrong with this picture?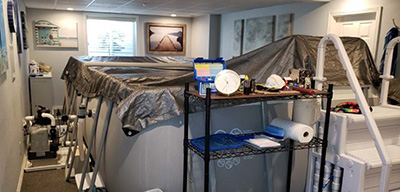 Answer: it's hard to know where to start! This 45,000-gallon aboveground pool was installed in a home by the owner. Though he didn't get a permit, he had a lot of things technically "right." Lights are rated for a wet environment, an exhaust fan helps keep humidity levels at bay and the pool's surroundings are perfectly dry. What makes installing an indoor aboveground pool so problematic is the risk.
In addition to humidity from a pool potentially wrecking your home's foundation, the humidity can also wreak havoc on the rest of your home—even all the way up to the attic! And it doesn't stop at just water. A pool's chemicals can slowly erode a foundation and cause metal corrosion over time. Though the lights check out for a wet environment in this case, the electrical outlets aren't protected, leading to risk of electrocution and injury. And we'll go ahead and throw out the obvious, too: if this pool fails in any way, it could lead to flooding, severe water damage and/or a collapsed floor.
Take it from us: as tempting as it is to swim indoors all year round, installing an aboveground pool in your home is simply not worth it!
Maintenance Matters
Your Crash Course in Dryer Vent Cleaning
It's hard to believe that your home's dryer vent is also one of its most dangerous fire hazards. Luckily, preventing safety issues is easy as long as you keep the area free of debris. Learn more
The Best Electrical Outlets for Your Needs
As long as they're functioning properly, electrical outlets are something most of us don't even think about. But believe it or not, certain outlets are better for certain purposes. Find out how to protect your home and connect to all your devices with this quick outlet guide. Learn more
5 Ways to Know if You Need a Gutter Replacement
Healthy gutters are an integral part of any home. With winter in full force and spring on the way, gutters become more important than ever for keeping your house free of water damage. Look for these five telltale signs to determine if it's time for a replacement. Learn more
Monthly Trivia Question
Question: How many times a year should you swap out your thermostat's batteries?
Be the first to answer correctly and win a $10 Starbucks's gift card. Submit your answer to NPI inspector to find out if you've won.
http://npi.totaltechgarage.com/wp-content/uploads/npi-web-logo2-300x138.png
0
0
Mark Crowley
http://npi.totaltechgarage.com/wp-content/uploads/npi-web-logo2-300x138.png
Mark Crowley
2019-01-01 01:00:27
2019-02-04 16:57:17
January 2019: Happy New Year