Ask The Inspector
How to Survive Winter

How To Survive Winter: Seven Genius Hacks
Snow is stressful, but just because it's the dead of winter doesn't mean you should be left out in the cold. We're here to make it easier with these seven brilliant snow hacks you can add to your winter routine right now. Learn More
How To Remove Salt Stains the Easy Way
If pesky salt stains are getting in the way of keeping your floors sparkling, you'll want in on this secret: vinegar. Find out how this inexpensive household staple can help you get rid of winter salt stains in a flash. Learn More
Expert Advice

The Best (and Worst) Firewood to Burn This Winter
Whether you're new to the world of wood-burning stoves and fireplaces or a seasoned veteran (pun fully intended), it helps to know the right woods to use. Read on to find out the best firewoods, as well as a few you should avoid altogether. Learn More
How to Get Organized Around Your House
The start of the year is the perfect time to set goals and priorities. And a big part of hitting the reset button is getting a handle on your possessions. Here are four proven tricks for paring down, sorting out and organizing your stuff for a stress-free home. Learn More
Snapshots From The Field
Our inspectors are always coming across interesting things in the field: new home trends, common repair issues—and sometimes even a few throwbacks.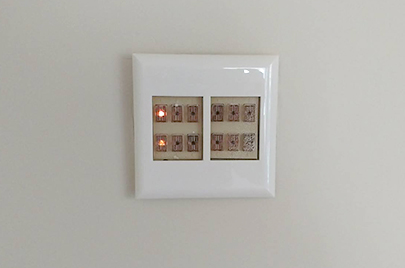 This little light panel may not look like much, but at one time it was considered cutting-edge technology! Now a household rarity, solenoids once allowed us to turn on the lights in almost any room of the house from one centralized location. No stumbling into a dark kitchen—you could simply flip a switch in your bedroom on your way down the hall.
These days, the panels are considered outdated and have been replaced with "smart" devices like the Amazon Echo. This means they have the potential to warrant costly repairs for a home's wiring down the road. If you own or show a home that features solenoids, we recommend having a specialist check them over.
Maintenance Matters

5 Ways to Know if You Need a Gutter Replacement
Healthy gutters are an integral part of any home. With winter in full force and spring on the way, gutters become more important than ever for keeping your house free of water damage. Look for these five telltale signs to determine if it's time for a replacement. Learn More
 The Best Electrical Outlets for Your Needs
As long as they're functioning properly, electrical outlets are something most of us don't even think of it. But believe it or not, certain outlets are better for certain purposes. Find out how to protect your home and connect to all your devices with this quick outlet guide. Learn More
Monthly Trivia Question

Q: How long does it take oak to season in order for it to be suitable to use for firewood?
Be the first to answer correctly and win a $10 Starbucks's gift card. Submit your answer to find out if you've won.
http://npi.totaltechgarage.com/wp-content/uploads/npi-web-logo2-300x138.png
0
0
Mark Crowley
http://npi.totaltechgarage.com/wp-content/uploads/npi-web-logo2-300x138.png
Mark Crowley
2018-02-01 16:53:53
2018-07-02 16:53:00
February 2018: How To Survive Winter