Ask The Inspector
Q. What tips do you have for springtime home maintenance?
A. That's a great question, and the timing is perfect for our spring home maintenance checklist. Whether you're a seasoned home owner or a first-time home owner, here are some of the things to check and prepare around the house as the weather warms up.

Inside the house: Investigate the attic and the basement or crawl space for dampness or leaks. Check and change the furnace filter, as a dirty or clogged filter reduces the efficiency of your furnace. Make sure the sump pump (if present) is operating correctly — the last thing you want is for melting snow or heavy spring rains to flood your basement. Clean the clothes dryer exhaust, duct, damper and space under the dryer.
Walk around the exterior of the house: Inspect the foundation, basement and garage for signs of termite infestation. If you notice evidence of termites, call an exterminator. Check the windows for loose or missing putty/glazing, broken glass, foggy glass and damaged screens. If you have a deck, look for loose railings, wobbly stairs and deterioration, and make repairs as necessary. Other things to check are your walks, patios and driveways. If you notice cracks or broken areas, it's time to fix them.
It's also important to check your home's siding for damage after winter's storms. Check vinyl and aluminum siding for cracks and damage. Check wood siding for peeling paint and damaged wood. Check brick veneer for cracks that are wider than 1/16 inch. Also, check for soft mortar joints or missing mortar.
Look up: Inspect the roof, flashing, chimney and gutters. Look for missing or lifting shingles; loose or missing flashing; cracks or damage to the chimney; and damaged or sagging gutters. Clean out debris from gutters and downspouts. Any of these problems can contribute to leaks and moisture inside your house.
Walk around the yard: Check the grading around the house — the ground should slope away from the house for proper drainage and to prevent water intrusion around the foundation. Check for overhanging tree limbs and trim any that touch the roof of your house or block pathways. Clean leaves and other debris away from the outdoor air conditioning unit.
Prepare equipment for yardwork season: Check the outside hose faucets for freeze damage. If you didn't disconnect your garden hose in the fall, you may find a cracked hose bib. Check your gas- and battery-powered lawn equipment and tools to be sure they are ready for spring and summer use.
Be Advised
Common Mistakes Home Owners Make
Your home may be the largest purchase you ever make, so it's worth your time to keep it in good repair. What you don't want to do is create more work for yourself. The following are some common mistakes home owners often make in the name of maintenance or home improvement:

Ceiling fans: Ceiling fans are not ordinary light fixtures. Their weight, size and motion require extra support. Never hang a ceiling fan from a light fixture box or install it without the proper electrical connections or support. Improperly installed ceiling fans will be noisy and potentially dangerous.
Wooden fences: To help prevent wood-destroying insect (WDI) problems, keep wood — including fences — away from the walls and foundation of your home. Use decorative rocks or other materials instead of wood mulch, and avoid nailing wood fence posts to the walls of the house.
Permits: Before starting any home remodeling project, determine what permits and inspections are necessary. Check with your local building department or other regulatory agency to ensure that your project adheres to the proper safety and local building codes. This can save you money in the long run, and prevent problems when you sell the house.
Snapshots From The Field
What's Wrong With This Photo?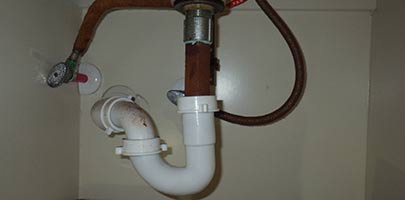 Nothing — corrosion like this is normal under a bathroom sink or vanity.
The plumber should have used polybutylene supply and drain lines.
There is excessive corrosion to the metal supply lines, requiring replacement.
The white pipe is a new type of plumbing material designed to last 212 years.
Correct Answer 3.This photo is from a house that was built only 11 months before the inspection. Because a home inspection is a visual inspection, the inspector was unable to determine exactly what caused the excessive amount of corrosion to the metal supply lines and drain under this vanity. With this amount of corrosion, however, leaks could occur at any time. In a situation like this, the inspector will recommend that a qualified plumbing contractor evaluate and replace the supply lines and drain line before a major leak catastrophe happens.
Noteworthy News
Mistakes to Avoid When Building a House
So, you're ready to build your dream home? It might surprise you to know that all too often home buyers make critical mistakes during the home-building process. We've rounded up the top 10 mistakes people make when building a home, so you will surely want to avoid these pitfalls.
Acting as Your Own General Contractor
A general contractor will gather bids; work with any subcontractors; and make sure that the work on your house is done correctly, within budget and on schedule. You may think it sounds like a great idea to save money and do all of that yourself, but it could end up costing you more money in the long run.
Taking a Laid-back Approach
This dream home is going to be one of the biggest investments of your life. Don't assume things will take care of themselves.
Cutting CornersA builder who can build your dream home $30,000 cheaper and two months faster than any of the others likely indicates a significant difference in the quality of materials. In addition, a builder may bid low to win your business and then tack on expenses later.Even if you are working within a tight budget don't cut corners on design and materials, especially those for bricks, roof tiles and windows. Also, if a job requires 20 hours, don't try to convince the tradesman to do it in less time. Quality workmanship comes at a price.
Choosing a Poor Location
When scoping out the land for your dream house, think about the following:

Busy streets and stores are not quiet or family-friendly.
Consider resale value before settling on a lot because it's the cheapest around.
Consider the lot's slope, water table and terrain, which affect how easy it is to build a home on the land.

Building a House That Doesn't Fit the NeighborhoodBefore designing your home, take a good look at the other houses in the neighborhood. Make sure the size of your home is similar to others in the area. The smallest or largest home in a neighborhood is often the most difficult to sell.Furthermore, the style and architecture of your home should be in line with the rest of the neighborhood. A stucco home is going to stick out like a sore thumb in a neighborhood full of Victorian-style homes.
Setting a Budget Without a Buffer
A budget is crucial when building a home, but make sure to include an additional amount that takes into consideration unforeseen circumstances and overages. Even with the best-intentioned bid, incidentals will likely arise.
Working With the Wrong PeopleWhen hiring a builder, take the time to find someone who is right for you. Interview a few builders, talk to their previous clients, check out their websites, check review sites like Angie's List, ask to see examples of other houses they've built (both photos and in person). Make sure the builder you choose is one you feel a connection with and who can transform your ideas into reality for your dream home.Professional architects have a formal education, sit exams and do years of apprenticeships to become licensed. If you are building a custom home and don't hire an experienced and qualified architect, you may find that the plans don't turn out the way you wanted.

Paying builders in advance is another common mistake. If a builder does not trust you enough to start work without cash up-front, you should not trust them either. Set up terms and pay when different stages of the work are completed.

Not Designing the Home to Fit Your Needs
Make sure your planning sessions with your architect produce a plan that is exactly what you want and need in terms of space and layout for your new home. Do not start the build unless you are completely sure of what is laid out on paper. Any changes made after the design plans are finalized can throw off the whole project and trigger a domino effect of problems and costs. Make sure to plan the size and placement of closets smartly. And, although a playroom, game room, gym or multipurpose room sounds enticing, make sure it's a room you will use or it will likely become a dumping ground.
Not Considering the Placement of Rooms

The laundry room, or washer and dryer, should be relatively close to the bedrooms.
Bedrooms need to be as far away from noise and traffic as possible. The master bedroom should be away from the central living areas.
The kitchen is more convenient near a garage or back entrance.
The garage should lead to the main level, near a mud room or the kitchen.
Sources: Angie's List, Freshome.com
Maintenance Matters
Did Winter Storms Do a Number on Your House?
March is a good time to assess the exterior of your property for damage from winter storms. You'll want to check both exterior and interior areas of your home for possible issues. To get started:

Check for storm damage to the roof, gutters and siding.
With the warmer March weather, it's the perfect time to get out the ladder and check your roof, gutters and siding for hail damage, tree limbs, lifting shingles, and pieces that may have come loose or blown away in the wind. Make sure to check the flashing for any damage, too.
Check crawl spaces, basements and attics for critters.
Thoroughly inspect these areas for evidence of unwanted visitors — mice, bats, raccoons, opossums or insects — that might have sought warmer temperatures inside your home during the winter.
Check crawl spaces, basements and attics for signs of leaks.
While you're checking for uninvited guests, inspect these areas for signs of leaks, such as moisture, water stains, or mold or mildew.
Pick up fallen limbs and debris.
Also, trim branches or shrubs touching your house or garage. This will help prevent both bugs, such as termites, and moisture from entering the building.
Did You Know?
Why Are Gutters, Downspouts and Splash Blocks Important?
Gutters, downspouts and splash blocks are used to move water away from a house or building, protecting the exterior surfaces of the home, the foundation and landscaping materials from water damage.
Gutters are valleys that can be made of a variety of materials and which are located on the edge of the roof.
Downspouts connect to the gutters to contain the water on its way to the ground.
Splash blocks are found at the end of the downspouts to disperse water away from the foundation.
A variety of gutter systems are available, depending on the type of home, slope of the roof and aesthetic concerns. Gutters on residential homes may or may not have seams, may be attached to the outside of the roof, or may be an integral part of the soffit. Gutters are made of plastic or metal, and they may have screens on top to prevent large debris from causing clogs. Leaks are most common at the seams, elbows and corners of gutters.
Drainage on flat roofs, generally found more often on commercial buildings, can be accomplished with gutters and downspouts, an interior drainage system or scuppers. Scuppers are holes cut in walls that extend above a roof line. Generally a downspout is connected to the scupper to move water away from the building.
Damaged or leaking gutters can allow water to stain walls and ceilings, pool against the foundation, or seep into the walls damaging the frame.
An unbiased, independent inspection by your NPI inspector includes a thorough examination of the home's gutters and downspouts to provide the information you need for. Contact us today to schedule your home inspection.
http://npi.totaltechgarage.com/wp-content/uploads/npi-web-logo2-300x138.png
0
0
Mark Crowley
http://npi.totaltechgarage.com/wp-content/uploads/npi-web-logo2-300x138.png
Mark Crowley
2016-03-01 21:39:48
2018-07-02 16:53:28
March 2016: Spring Outdoor Cleanup